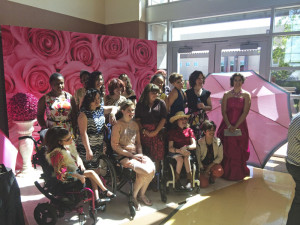 Choosing Opportunity Village to be this year's beneficiary was a no brainer. This past spring I helped with a fashion show with all of the OVIP's. I have known about Opportunity Village since I moved here almost 13 years ago. I have always loved the organization and thought they were doing so many wonderful things. When I agreed to work on this project, I asked a lot of questions about the girls that were going to participate. I wanted to make sure that I was sensitive to each one of their individual abilities, disabilities, likes, wants, hobbies, personalities and fashion sense.
I decided to create a questionnaire to help the process along. I asked them what their favorite things were. If they could be someone else, who would, they want to be? I asked them to describe their style and fashion sense. We were ready to rock and roll.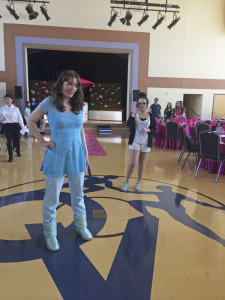 What happened from that point on is where the real story lies.
Each one of the girls came in and we talked about their answers during the initial fitting. I learned that most of the girls participating were in their early adulthood and trying to date. One of the girls told me I made her look fat. They wanted to look like royalty. Some wanted to look androgynous. Some had always wanted to be a cowgirl.
As I got to know each and every one of them, I realized so many times we are solely focusing on how we can help them with their disabilities and we don't look much further than that. But most of these girls are struggling with so many of the same things we are. They are trying to date. They want to look and feel beautiful. They have issues and jealousy with their friends. They don't love their bodies. They struggle with self-confidence and self–worth. They want to fall in love. They want to be loved.
So this year, I am committed to helping these beautiful women feel and look great at their next fashion show, Starlight Ball and dinner with friends. I want to help advocate for these women beyond the wonderful things that Opportunity Village already provides. To help them feel and look "like Katy Perry", "like a princess" and like the best version of themselves. To be able to look in the mirror and see what beauty stares right back at them. Thank you for shifting my perception and sharing your beauty and soul with me.