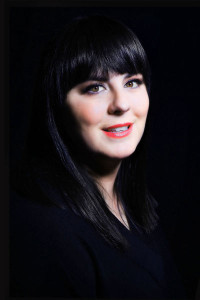 Jenna Doughton is a fashion stylist and personal shopper based out of the Las Vegas area. She was raised in Utah and after discovering her dislike of JELL-O casserole and feeling stifled in Utah, she decided to spread her wings and move to Las Vegas. Contrary to popular belief, she has never been a stripper, newscaster, politician, doctor, banker, casino owner or a professional gambler, but has helped several. She does believe though, that Las Vegas offers some of the best shopping in the country.
With a shopaholic mother, Jenna could win a gold medal in shopping and has an incredible eye for editing. Wildly insecure as a child with thunder thighs and a mustache (which she has since embraced), she found confidence in sharing her gift creating one's individual sense of style.
Jenna has worked in the fashion industry for over 20 years and has helped hundreds of people find their inner fashion maven- from stay at home soccer moms to presidential candidates. She is often a go to opinion when it comes to fashion and shopping in Las Vegas. She was voted the best personal shopper by Vegas SEVEN magazine and now writes a monthly column for SEVEN. Jenna has done events with Vogue, Shape, Nordstrom, United Way, YWCA, Boys & Girls Club, Junior League, Wine Women and Shoes, Ronald McDonald House Charities, Utah Families Foundation and many other non-profits around the country. She is available for individual consults, shopping parties, destination shopping, interviews, writing, speaking engagements and group events such as her Style With A Cause™ .
Voted Best Personal Shopper by Vegas Seven Magazine, Jenna Doughton is the premier personal shopper and fashion stylist in the Las Vegas area. Her extraordinary gift discovering your own individual style best for your lifestyle needs and body type is unparalleled. The best kept secret. Now you don't have to be a celebrity to have your own stylist.
Her fashion philosophy is in line with her life philosophy; "I really believe that when we are true to whom we are as an individual we unearth our own power, confidence and individual style that is uniquely ours. I help real people with real bodies who love beauty and luxury."